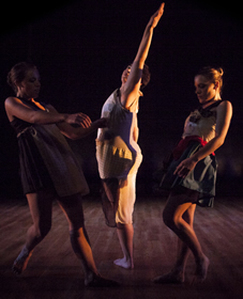 Composers Nat Evans and Ross Simonini have created a new score for dance in collaboration with Chicago-based choreographer Kate Corby. The new piece,
Digging
, was derived entirely from experiences in intensive meditation sessions over the summer - a direction from Corby that she and her dance troupe also followed. Since Evans and Simonini were already both daily meditators, as an alternate meditative activity they decided to create a chant to recite every day as a way to transform a phrase they found disagreeable. After deciding on the phrase, "kill two birds with one stone," they broke the words down syllable by syllable to create a chant and began practicing daily over the course of a few weeks. Although Evans and Simonini live in Seattle and New York respectively, they were able to work on this project together remotely by recording all of their various experiments with this invented chant and experiments in ritual as related to sound and the breath. They then took this cache of recordings as source material to create a new electro-acoustic composition that builds and folds over on itself through processing and editing.
Digging
will be presented by Kate Corby and Dancers along with music by composers Tim Russell and Ryan Ross Smith at the Chicago Cultural Center October 24-27th. All events are free, and the shows are at 6:30pm, with the exception of Sunday's show, which begins at noon. More information can be found
here
, and an excerpt can be heard below.