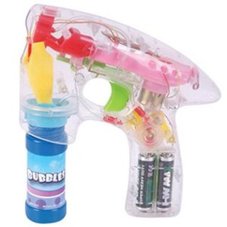 Bubble gun = sonic triggering device.
Rubber & Tin
is a bicycle ride through the city of Seattle that combines homemade musical-bicycle instruments, site-specific listening, smoothies and cartography. On Friday, August 23rd, join composers and sound artists Nat Evans and Chris Kallmyer in a workshop at
The Henry Art Gallery
to build bike-bound-instruments and other ramshackle devices designed to create sound from your pedaling. The group will then depart for the Burke-Gilman trail making a clangorous drone as they move. Along the way the mobile ensemble will be directed to stop, circle up, and simply listen – our attentions, hearing and observations shaped by this new lens of an instant and temporary community. After exploring the trail and it sounds, the ride will end at Gas Works Park where participants can enjoy smoothies from bike-powered blenders, converse, and ponder sounds of the urban fauna. As folks depart, their sonic bicycles slowly dissipate into the broad landscape of the city. Here are the details:
Friday, August 23, 2013, 6:00 - 8:00 PM
Meet in the Plaza outside the Henry.
FREE with Museum Admission
FREE to cyclists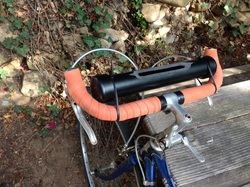 The notorious Bike Flute.
The Rubber & Tin event is the first event in a series called House Guests. Nat Evans and Chris Kallmyer will be creating sound works around everyday household tasks like cooking, gardening, cleaning, biking, and walking. These works will take place in the coming months in and around Seattle for small audiences of 10 to 100 people. For instance, in the fall, they'll lead an expedition into the North Cascades to hunt for Chanterelle mushrooms. At the site where mushrooms are found, a soup will be made utilizing the foraged bounty. Sound and musical works will accompany the soup making as the participants look observe and consume the soup together.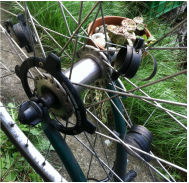 Jangley things betwixt the spokes.
These experiments in converting every-day activities into sonic and community based events have been an ongoing dialogue of ideas and trial and error - each artist bringing their own set of interests, skills and ideas to re-shape the context through collaboration. For
Rubber & Tin
the flow of ideas for the group ride took a circular path. Evans & Kallmyer initially conceived of the concept as a group experiential event, then moved on to proto-typing instruments that participants could make and affix to their bikes. Some things came easily - jangly recycled items were easy enough for Nat to alter his bike, but making bells from old sink parts proved to troublesome, or totally impractical to do with a group of people. Similarly, Chris made a Bike Flute, which has an excellent sound, but requires the cyclist to travel exceedingly fast! Eventually, at the suggestion of Chris, they settled upon a few different categories of sound-devices.
Category 1: Traditional
Baseball cards and clothes pins have been quintessential tools for kids interested in altering the sonic nature of their bicycles since the mid-20th century
, and will be available for decoration and sonic alteration.
Category 2: Experimental
A myriad of different
recycled and re-purposed metallic items will be available to create some different, basic sounds that are powered by their bicycle being in motion. Though some examples will be available, Nat and Chris are making this category one of potential - the potential for people to innovate given the right tools and materials.
Category 3: Kazoos
People will have them. We'll use kazoos for different sound-based investigations along the route, and other sounding devices will be utilized by participants as well. These devices may or may not be cued by the appearance of bubbles.
After these categories were established the artists came back to the experiential aspect of the event - further fleshing out their concept with movement-and-mindfulness-derived group exercises to help shape the flow, perception and energy of the experience of Rubber & Tin
. By re-contextualizing these every-day experiences, a greater sense of place and community is engendered, sounds and music are heard in new ways, and people are brought back to the moment.
Please join Nat Evans and Chris Kallmyer for
Rubber & Tin
and other House Guests events in the coming months.