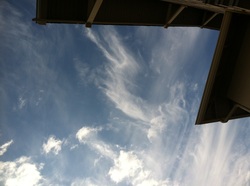 This summer has been wonderful so far - a road trip that traversed the open, beautiful and sometimes martian-like landscapes of the American West, lots of interesting music being produced by new friends and old, and weather here in Seattle that can really only be described as idyllic. But enough of this petty banter: it's time for The News.
There are two reviews that showed up for The Box Is Empty show that happened in June - one in
I Care If You Listen
and another in
The Glass
. The Box Is Empty played a new piece that they commissioned from me called
Hear No Noise
. You can have a listen to
Hear No Noise
here
. Last weekend I presented the newest of my time-specific music events,
Blue Hour
, at Green Lake here in Seattle - I'm presenting it again this coming weekend in
Portland
.
In other news of the site-specific sort, I won a call for site-specific scores by the Color Field Ensemble. At their
festival in Madison
, they'll be doing an iteration of my new piece that will be performed in its entirety in September,
Hungry Ghosts
. Besides
Hungry Ghosts
, Nat and Roos will have a sound installation that will run inside a theater for a couple of house in between musical events at Color Field Fest. Also, we have posted a video of the dance performance for All of the Above on YouTube. We did the score for this piece by choreographer Catherine Cabeen. If you enjoy the music in the video, you can buy it on amazon, itunes, or emusic. That's all the news for August - be on the look out for three site-specific music events in September!